Willow 'cathedral' built in Somerset to revitalise town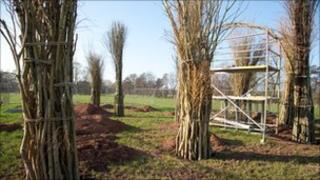 An 8m (26ft) high sculpture shaped like a cathedral and made from willow is being created in Somerset.
It is believed to be the first such creation of this type in the country and will be used for public gatherings.
The sculpture is made from Somerset willow which will turn green over time and take years to reach full maturity.
It is being built in Longrun Meadow and is part of Project Taunton, a £270m development of the county town. Its artists hope to complete it by May.
A 12m (40ft) high Willow Man which stands just off the M5 is a well-known Somerset landmark.
"Creating the cathedral is a serious test for us due to the dimensions and the materials used," said artist Steffan Jennings.
"The opportunity to create this type of structure is something we have both been working towards for a number of years and as far as we are aware nothing of this scale has been made before in the UK."
'Nature connection'
He is working alongside fellow artist Sophie Courtier.
The willow for the cathedral comes from the Somerset Levels.
The material has been grown, cut and used in Somerset since humans first settled on the Levels.
"It's locality near the banks of the River Tone in a fresh new public space seems right for Taunton," said Mr Jennings.
"Longrun Meadow is a really expansive green space close to the town centre, which is proving very popular with local people.
"I believe that the structure will fit perfectly into the landscape and will offer a connection with nature and the life of the river."
The cathedral is the second structure to be built in that area after a green oak barn was completed in November 2010.
Both these bespoke structures have been created for the whole community to use and benefit from.
The oak barn has already been used for a number of activities including a refreshments venue for a Somerset College outdoor activities event.
Ian Franklin, project director for Project Taunton, said: "We hope it will be enjoyed by all sections of the community for a wealth of different activities, from theatre productions to yoga classes, for years to come."