Author seeks help for book on plane crashes in Somerset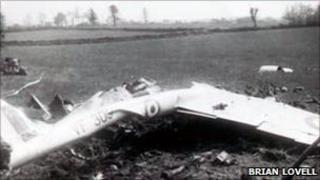 An author from Somerset, who is writing a book about plane crashes in the county, is looking for help to fill in the missing gaps.
Wings Over Somerset author Peter Forrester, from Yeovil, has researched post war plane crashes that were either in Somerset or have a connection to it.
Mr Forrester said more than 425 aircraft crashes have occurred in the county since World War II.
He said Somerset has such a history as there are many airfields and they happened at a time when planes were new and untested.
Some had only 40 minutes' flying time before they needed refuelling.
"Jet aircraft had just started to come in and there were a dozen airfields around Somerset in daily use," he said.
"It was in its infancy - some of the planes didn't have ejector seats and they were going at six miles a minute which was very, very, fast.
"When an aircraft took off, you didn't know where it was going. It may have crashed in Wells, so you didn't know anything about it.
"There wasn't any local radio and the papers didn't carry much. That information did not need to be published so even the Ministry Of Defence didn't have any cause to publish it."
Casualty list
There is one particular crash which he is looking for more information on.
On 10 April 1973, 108 people were killed in the Basle Air Crash.
It was mainly Somerset women who died as the plane was on a shopping trip to Switzerland from Bristol Lulsgate Airport.
Although he knows most came from the Congresbury, Cheddar and Axbridge areas, he has been unable to find a casualty list.
"I am conscious that it happened 38 years ago so it can be emotive for some people but it is a fact of history that these people were lost.
"I think that it is important that they are remembered."
Although there is a list which belonged to former Defence Secretary and Bridgwater MP Lord Tom King, it is tied up in classified documents and cannot be made available until 2012, however Mr Forrester wants to publish his book this year.
Another crash he is looking for more information on is when a Piper Cherokee (small aircraft) came down in the Bristol Channel near Weston-super-Mare in October 1976.
"The pilot managed to escape from crashed aircraft but unfortunately he was never found."