Glastonbury Festival's Michael Eavis saves Oxfam shop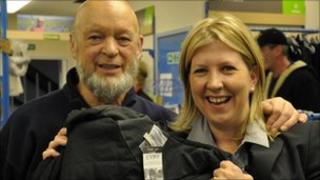 Glastonbury Festival founder Michael Eavis is used to persuading the world's top musicians to play the festival but now he has worked his charm to save a charity shop from closure.
Bridgwater's Oxfam shop had been earmarked for closure as, although it was making a profit of £2,000 a week, it needed an extra £35,000 for a refurbishment.
When the news broke, volunteer Simon Duckworth said he was "horrified, angry and determined to do something about it".
Knowing Oxfam was one of the main beneficiaries of the festival, the shop's workers thought Mr Eavis would be the ideal person to help them in their attempts to keep the store open.
Volunteers and Bridgwater shoppers sent about 40 letters pleading for him to take up their cause.
"I was amazed about the number of letters I had because the people that were writing to me were town folk and not just volunteers who worked here," said Mr Eavis.
"It's great as I do like to feel that people can phone me if they feel so passionate about something, and this is something that I care about as we put a lot of money into Oxfam. It does my heart good to support it."
'Ought to listen'
The letters arrived in the middle of winter when Mr Eavis's farm was covered in snow and ice. So as he could not do anything on the farm, he decided to take up the cause.
He got in touch with Oxfam's head of retail, Sarah Farquhar, and told her he thought "it was a poor show" and that as the festival gave Oxfam £400,000 a year, it "ought to listen".
She said: "We would listen to anybody but Michael does have a special place in the hearts of Oxfam.
"We would always listen to what he had to say, just as we would to volunteers, as their opinions matter to a people-based organisation such as Oxfam."
Mr Eavis then put his "farmer skills of looking for the best deal" to good use as he marched next door to the estate agents and negotiated a cheaper rent for the shop.
He also found a sponsor to pay the rent for the next three years.
"We feel it's a lifeline and a helpful intervention but we know it can't continue forever," said Mrs Farquhar.
"We want to make the shop profitable so that after the three years we can keep it open without needing a sponsor."
At the re-opening, which doubled as a party to celebrate saving the shop from closure, Mr Eavis took off his coat, which was immediately priced up for sale for £9.99 by mistake by a keen volunteer.
"It'll be well run, well managed and we'll keep an eye on the figures," said Mr Eavis, who has also become involved with the Save Somerset Libraries campaign.
"There is a limit to what I can do but it was my quiet time in the winter as we couldn't do anything on the farm, so I thought 'this is something I can do' so I just enjoyed doing it."