Marines and Weston-super-Mare in friendship ceremony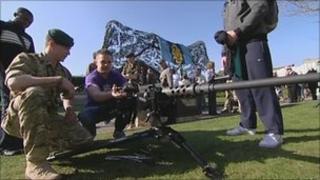 Royal Marines from 40 Commando and Weston-super-Mare have cemented an official friendship.
A ceremony took place at the town hall on Monday, about 30 miles from the 40 Commando base at Norton Fitzwarren, near Taunton.
Some 14 marines lost their lives during a six-month deployment in Afghanistan last year.
The town offered the marines a formal hand of friendship and a vote of thanks.
Weston mayor Philip Judd said: "As a town I think we need to be getting behind our Armed Forces...
"40 Commando are a local unit and a lot of the members come from Weston-super-Mare."
Members of the public had the chance to meet the marines throughout the day.
Colour Sgt Kev Hazeldine, from 40 Commando, added: "Interacting with the local public and seeing how much respect and how much knowledge they have about what we do is quite humbling."