Family farms: endangered species or a booming business?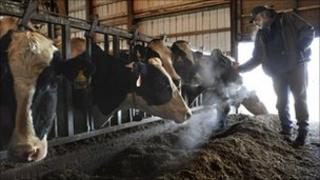 Is the traditional Somerset family farm the solid backbone of British agriculture or an endangered species?
Defra estimates that about 90% of all farm enterprises in England are family run but many struggle to make a profit.
So with constant demands for high yields and even greater efficiencies, how much longer can they survive?
This year Defra predicts that dairy farm incomes will drop by 28%, and some argue that they may need to expand by several hundred or even thousands of cows to survive.
Perhaps bucking that trend is David Cotton who has been making a success of milking just over 100 cows on the family beef and dairy farm at West Bradley near Glastonbury.
He is a fourth generation farmer having inherited it through the family line from his great grandfather.
He told BBC Radio 4's Farming Today that despite 4% of dairy farms closing a year, he was optimistic that his business would survive.
"If you take family labour into account, then we are all fools because we do it for nothing and we support the British economy by feeding them for a small fee.
"I know family farms with three or four sons who are not taking a salary, but taking a small income.
"If they were taking a real income of £25,000 to £30,000 out of their business, then that business probably will not be making a profit."
'Significant enterprises'
For many it seems that family farms keep going on a mixture of goodwill, public money and diversification.
Dr Matt Lobley, acting director of the Centre for Rural Policy Research at the University of Exeter, said: "People have been predicting the demise of family farms for many, many years and they've been proved wrong.
"Family farms have gone out and have developed other enterprises and other sources of income so I think they will continue to adapt."
But the face of farming is changing.
For British agriculture to thrive, the farms of the future may need to be highly industrialised large-scale operations.
Mike Greet-ham from rural consultants the Andersons Centre said: "Family farms needn't be small.
"The way agriculture has changed over time, family farms can in actual fact be quite significant enterprises however it's certainly not the way farming is moving.
"The only sectors that are growing are part-time farms and very large farms.
"Farming is now a business - it's not a hobby, it's not a way of life."