Call for extra gypsy and traveller pitches in Somerset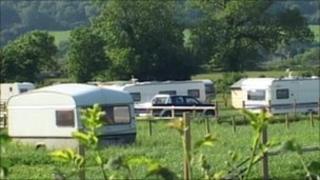 Somerset needs an extra 295 pitches for gypsies and travellers by 2020, a study into the county's provisions has found.
Researchers from De Montfort University questioned members of the county's gypsy and traveller communities about their needs.
The report concluded that 100 transit pitches and 195 residential sites are needed over the next nine years.
The survey was commissioned by six Somerset councils who said they would take its recommendations on board.
There are currently more than 600 gypsies and travellers in the county.
'Big influx'
Sally Woodbury from Friends, Families and Travellers, who took part in the study, said she believed more pitches than those calculated would be needed.
She said: "I believe it's going to get greater because the last big influx of new travellers came with the last economic downfall."
It is the first recommendation since the coalition government removed housing targets, including those for gypsy and traveller sites.
Last week Taunton Deane Borough Council gave planning permission for two residential pitches in Bishops Lydeard, however it still needs a further 23 by 2015.
The county council is also in the process of selling the five sites it owns.
Four permanent sites and one transit site at Middlezoy are likely to be sold to the Somerset Travellers Trust Ltd and one scrapyard is going to be sold to its current tenant.