Author Terry Pratchett pledges £10,000 swan killer reward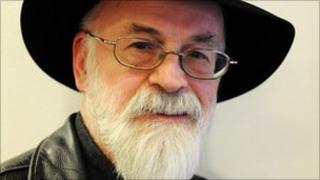 Author Sir Terry Pratchett has added £10,000 to a reward to help catch the killer of 31 swans in Somerset.
Sir Terry, who lives in Wiltshire, said he was "incensed at the news". The reward currently stands at £26,080.
Ten dead swans were discovered on Tuesday near Wedmore. The RSPCA began its investigation after the first six birds were found dead on 30 January.
Sir Terry, author of the Discworld novels, added: "It's wanton destruction of a living creature."
He said: "People who do this sort of thing to an animal are probably a danger to people as well.
"I don't think the punishment will fit the crime.
"For some idiot to fire an airgun for fun - I was just incensed. I've seen the sanctuary, I've lived in Somerset and I know the area."
The wildlife rescue group Secret World described finding the eight shot birds on 22 February as "one of the worst incidents" it had ever dealt with.
The birds had been shot in the head with airgun pellets. One of the swans which survived an earlier attack is still recovering at Secret World's centre in East Huntspill.
Secret World said contributions to the reward, leading to the conviction of those responsible, were coming in from all over the country.
There have been three separate donations of £5,000 from anonymous donors, £10,000 from Sir Terry Pratchett and £1,080 from the general public.
The police are assisting the RSPCA investigation and said extra patrols were being carried out by their neighbourhood team.