Bishop of Bath and Wells hits out against spending cuts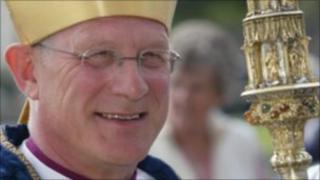 An Anglican Bishop has spoken out against government spending cuts, saying they will affect the "most vulnerable and poorest" in society.
The Bishop of Bath and Wells, Right Reverend Peter Price, said attention should be drawn to cuts which caused "suffering, hardship or deprivation".
Bishop Price also said people should join protests against the cuts.
The government said the cuts were needed to reduce public debt and bring "stability" to the economy.
Bishop Price made the comments in an article which was distributed in parish magazines across his diocese.
He said he had visited numerous places such as schools, law courts and farms with the Bishop of Taunton, Right Reverend Peter Maurice, to find out what was concerning people.
He wrote: "The call for a Big Society will be hollow if governments do not recognise the impact of their decisions upon the old, the young, and the vulnerable.
"A Big Society calls for a commitment to the common good by government and people alike.
'Sacrifices of people'
"The society of God's Kingdom calls for the priority to be given to the poor, lonely, isolated and vulnerable. In society we do together what we cannot do alone.
"Nurturing and encouraging volunteering in the community is good. But it is not something that can be done without resources, any more than the Hebrews could make bricks without straw."
He added: "It has been said that if government programmes require sacrifices of people, the people need to trust that the result will be a better future for everyone. If that trust is absent then people will see such cuts as unfair and punitive.
"Many people in our parishes will be affected deeply by the cuts."
The government says the cuts will allow it to reduce public debt and trim debt interest payments by £5bn a year by 2014.
When outlining the £81bn cuts package, Chancellor George Osborne vowed to restore "sanity to our public finances and stability to our economy".