Communities near Hinkley Point C to get £20m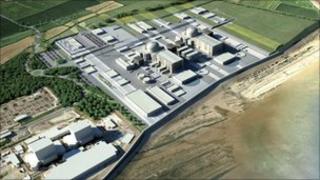 Communities living near the planned Hinkley Point C nuclear power station in Somerset are to get £20m.
Energy company EDF has increased the amount in its community fund from £1m following criticism from local authorities.
But the chief executive of Sedgemoor District Council says the money is not enough.
EDF's Richard Mayson said the increase followed comment from the public and councils.
'Other impacts'
He said: "At the time we looked around at what other large projects in the UK had done - various airport proposals over the last few years - and they were typically doing proposals of around £1m for these sorts of funds.
"We listened very hard to the reaction of stage two consultation that obviously a lot of people recognise the economic benefits of the project but clearly a lot would like to see a decent-sized sum of money to address those other impacts of the project."
Mr Mayson said the £20m would be spent locally on projects chosen by the community and councils.
The company says it is expecting to spend £300m in total on mitigating the impact of the project, including £100m on benefiting the community.
But Kerry Rickards, chief executive of the Conservative-run Sedgemoor District Council, said he felt more money could be made available.
"The Shetlands Community Trust has a fund of £150m set up now and they use that for a whole set of priorities that the communities have determined are their priorities," he said.