Somerset County Council makes £34m cuts to its budget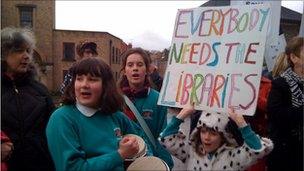 The final decision has been made to cut £34m from Somerset County Council's budget.
The Conservative-led council will lose a quarter of its staff by closing 1,500 posts over three years and cutting its social care budget.
Councillors also decided to shut 18 youth centres, 11 libraries, four recycling centres and agreed to halve the money for bus subsidies.
About 50 protesters gathered to protest against the cuts outside county hall.
Neil Sturtivant, the mayor of Crewkerne, handed in a petition with 12,550 signatures against the closure of the town's recycling centre.
He said: "People are appalled. After the government having a zero waste policy and everybody for years telling us that we need to recycle and now people are really starting to recycle, it just feels like such a bad mistake."
Classical music conductor and broadcaster Charles Hazelwood, who lives in Keinton Mandeville, described the cuts to the council's arts budget as "monstrous".
Somerset Liberal Democrats have called the cuts "destructive" and were "bigger than what was necessary".
The authority agreed in November to cut £43m from its budget over three years, as the money it receives from central government has gone down by £27m (11.4%).
However it is to receive £6.7m from the NHS and £2.8m in other grants.
On Wednesday at the full council meeting, members debated on how to save £34m (10% of its revenue budget) so the authority could balance its budget for the next year.
The cuts will see the council decrease the amount spent on adult social care in an attempt to save £500,000 per year.
Other cuts will now be made to funds for learning disability care, bus subsidies and bus passes for students.
The council will also stop climate change and renewable energy projects as it aims to save £7.5m from its environment budget.
Managers are to be cut from a cluster of children's centres, leaving one manager to look after them all. Many will be run by charities rather than the council directly.
About £9m is being cut from its Children's and Young People's budget.
Cabinet member for that department, councillor John Osman, said: "We've been left with a stark choice - do we reduce the children's social care fund? Do we reduce funding for children with special educational needs? Or do we look somewhere else?
"Unfortunately we've had to look somewhere else and choose reluctantly some of the youth provision."
The authority has also reduced its cabinet members by three.
Related Internet Links
The BBC is not responsible for the content of external sites.