Yeovil Town Footballers raise funds for air ambulance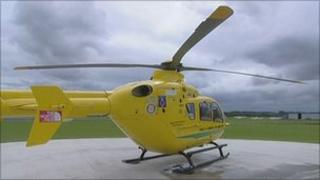 Yeovil Town's footballers are raising money for Somerset's local air ambulance as part of a major fundraising campaign.
The players are taking part in Save Old Soles, an initiative collecting as many pairs of shoes as possible.
The footwear will then be recycled and traded for cash in the developing world, with the money raised going to the Dorset and Somerset Air Ambulance.
The charity receives no government funding and costs £1.4m a year to run.
Since its launch 10 years ago, air ambulance staff have attended 7,600 emergencies.
"We are over-the-moon at being asked us to join the Save Old Soles campaign," said Adrian Hopper from Yeovil Town.
"Our club has experienced the benefits of the air ambulance first-hand and we continue to do whatever we can to support its cause."
The Hampshire and Isle of Wight Air Ambulance will also benefit financially from the campaign, with players from AFC Bournemouth and Southampton FC also helping to collect shoes.
Save Old Soles is an initiative created by the Dorset and Somerset Air Ambulances' recycling partner, Bag It Up Ltd.