Widow's plea for Rooksbridge speed camera to stay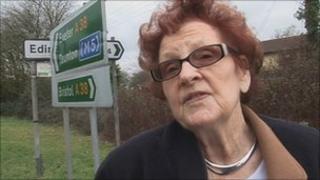 A widow whose husband was killed by a speeding driver in Somerset is pleading for speed cameras to be kept.
Pat Ireland's husband Gordon, who was 80, was killed instantly on the A38 at Rooksbridge in January 2008.
Mrs Ireland said she had set up a charity that would help keep the camera operational if the safety camera partnership was disbanded.
"In our village we would be prepared to put money up to pay for the camera to stay," she said.
Her campaign comes weeks after the announcement the Avon and Somerset Safety Camera Partnership management team would be disbanded at the end of March.
Three posts in Taunton will be closed and jobs in the Bristol unit which processes fines will be reduced.
The changes are due to cuts in government funding and will see Avon and Somerset Police take over running the mobile speed cameras.
Local authorities would then have the option to pay for the cameras themselves or have them dismantled.