East Somerset rural crime team hailed a success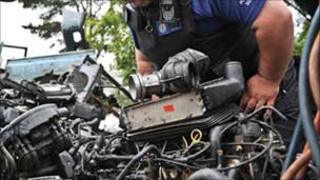 A rural crime team set up in east Somerset less than a year ago has recovered property worth more than £100,000 and made 40 arrests.
The team of officers and PCSOs was initially put in place for six weeks last April.
"Due to its success the scheme has been extended twice and will continue to run until at least December 2011," an Avon and Somerset Police spokesman said.
Officers are targeting the theft of plant, livestock, fuel and scrap metal.
'Real impact'
"Since its introduction we have made a real impact on rural crime in the area," the force spokesman said.
"We've made 40 arrests and five of those have already been given custodial sentences.
"We've had more than 700 pieces of intelligence about rural crime and known offenders and we have seized £100,000 of plant and £4,700 of cash.
"We have sent a clear message to rural criminals that we will not let them target our communities."