Yeovil's JF Print closes with loss of 45 jobs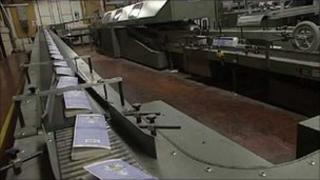 Some 45 jobs are to go at the Sparkford printing press near Yeovil, after the company which runs it announced it was closing.
JF Print bought the UK division of Haynes Book Production in a £400,000 deal two years ago, a move which initially safeguarded dozens of jobs.
Now the bank has withdrawn its loan just two years into a three-year lease.
A JF Print spokesman said the company would try to save some jobs by relocating some of staff members.
The company said the business was doing quite well despite the economic downturn. However it was left without the finance it needed to carry on following the bank's decision.
An automated email response from JF Print, a division of Wiltshire-based JFDi Print Services, said: "Sadly, JF Print Ltd went into liquidation on Friday, 21 January 2011.
"Thank you to all our previous customers and best wishes for the future."
'Very sorry'
Literature on JF Print's website boasts that the company is "one of the country's most respected book manufacturers" with the capacity to produce up to 25 million books a year.
As part of the buyout in 2009, JF Prints promised to continue producing some of Haynes' paperback books, including general motoring, transport and computing.
The deal did not include the world-famous Haynes car manuals which have been printed in the US for the past decade.
A statement from Haynes regarding the job losses said: "Haynes Publishing Group Plc sold its UK book printing business to JF Prints Ltd in February 2009.
"Since then they've operated as an entirely separate business. We are very sorry to hear of the job losses."