Building work starts on £2m Wincanton Health Centre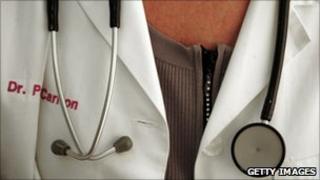 Work is beginning on a new £2m health centre in Wincanton, bucking the trend of recent spending cuts in Somerset.
The centre at the New Barns Farm site on Dykes Way, is expected to be finished by the end of 2011.
It will have consulting and patient treatment rooms, a minor operations room and a clinic to manage patients who are at risk of blood clots.
The project has been jointly funded by NHS Somerset and the private company Wincanton Health Care Limited.
Director of primary care development for NHS Somerset, David Slack, said: "Back in 2008 we undertook a review to look at what premises would be required for GP surgeries, taking us up to the end of 2015.
"At that time, the NHS was receiving generous increases in its allocations of around 10% per annum.
"So, we were in a position to put aside money at that point to fund this five year programme - about a third of it has already taken place."
Location concern
However, some residents have voiced concerns about the centre's out-of-town location.
"Virtually everybody who has talked about it has wanted the health centre to remain in its present venue in the centre of the town," said John Baxter, the editor of local news and opinion website, Wincanton Window.
"It makes the shops, and what goes on in the historic High Street of Wincanton, very vulnerable to a downturn in business.
"But on the other hand, the worse choice would be if we were left with no new health centre."
NHS Somerset's Paul Courtney said: "Although it might not immediately be in the town centre as it was previously, something like 40% of the patients who currently are registered with the Wincanton Health Centre live in the rural area.
"It's new location is going to be so much more convenient for those who may not live in the centre of Wincanton but are having to come in from the outer villages."
NHS Somerset said that 52 of the 76 GP practises in Somerset are either planned for a new build, extension or refurbishment.
Somerset County Council approved £43m of cutbacks in November.