Somerset council cuts could 'pose threat to food chain'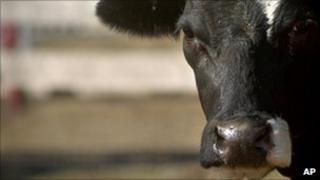 Cutting farm animal monitoring funds could pose a threat to the food supply chain in Somerset, a report has found.
Somerset County Council wants to cut just under a quarter - £55,000 - of its animal health budget.
The council report also said any animal disease outbreak could have an impact on the local economy, but it is hoped restructuring will offset the cuts.
The National Farmers' Union said there was too much regulation, while the RSPCA said it would be a backward step.
The cuts would lead to less advice being given to farmers and fewer inspections being carried out at places such as livestock markets.
It would also mean the cutting of two posts.
'Minor risk'
James Small from the NFU said the cuts would not have a great effect on agriculture as the industry was already heavily monitored by Defra and through self-regulation.
"It's certainly not going to affect the public's safety. There's no point in checking something two or three times and this is what's happening at the moment."
But Jo Barr from the RSPCA said: "We think cutting the budget for farm animal welfare inspection, either at a farm or at a livestock market, could lead to a decline in the level of monitoring and enforcement.
"That will certainly be a backward step for farm animal welfare."
A spokeswoman for the Conservative-run council said it was a minor change within a budget of £300m and that the £55,000 cut was seen as a "minor risk to the security" of the food supply chain.