Yeovil mosque expansion plans approved by council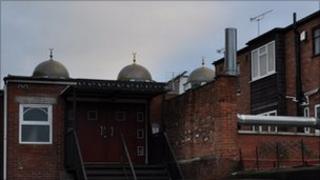 Plans to expand a mosque in Yeovil have been approved by South Somerset District Council.
The building currently holds about 60 men during its main Friday congregation but it is expected this number will double over the next five to ten years.
Applicant Erol Sen said this was the reason he had put in the plans.
The approval means another storey will be built to create two new flats and the main prayer hall will be extended over the existing car park.
'Consistent character'
Last month, Yeovil Town Council refused to recommend the plans because of concerns over the lack of parking and doubts over the architectural design fitting in with the surrounding conservation area.
However planning officers decided the Clarence Street area was "already decidedly mixed without a consistent character".
The lack of on-site parking was not considered a problem because the town centre was well-served by public transport with several public car parks nearby.
The plans include a 12m (40ft) minaret, a tall slender tower, at the front of the mosque.
Planning conditions have been attached to the use of the minaret.
It will not be used as a platform where the call to prayer is traditionally made because no public address system or audio equipment will be permitted either inside or outside of the building.
The hall will also be sound-proofed to ensure people can pray in silence and to reduce noise for the new flats and neighbouring buildings.