Somerset social care facing cut in budget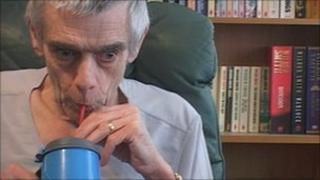 Elderly and disabled people in Somerset whose care needs are classed as 'moderate' could lose their support.
County councillors are due to vote on whether to only pay for care for people who have the most serious needs.
Valerie Palmer, who cares for her husband, feared the move could force her into putting her husband into full-time care sooner.
The council said the annual savings made from the planned cuts could be about £500,000.
There are four categories the council uses to assess the care needs for elderly or disabled people; low, moderate, substantial or critical.
Anyone with moderate care needs currently qualifies for help from the council.
'Critical needs'
Martin Palmer, 60, was diagnosed with Huntingdon's disease 10 years ago and had to stop working two years ago when his wife Valerie became his full-time carer.
Mr Palmer is one of the estimated 500 people in the county who will be affected.
At the moment the council provides a day out for him once a week and pays for four weeks a year of respite care.
"It would mean he would have to go into full-time care sooner because there are days when I just cannot cope anymore," said Mrs Palmer.
"If it gets too much, I can then think it's only four, five weeks and then he is going away for a week and I've got a week off - that I can deal with."
David Dick, director of learning disabilities, said: "The biggest impact will be on managing future demand and pressure on services."
He said it was "difficult to come up with any realistic or accurate estimate of what savings could come out of this, our best guess is that it could be £500,000".
"When we talk to our social workers most of the people we are supporting have substantial or critical needs anyway. Moving our threshold up to substantial clearly will reflect the reality of where we are and who are helping anyway.
"That's why we don't think there will be a huge amount of savings anyway."
The decision is expected to be made at a council meeting on Wednesday.