Plans to redevelop Birnbeck Pier 'delayed by economy'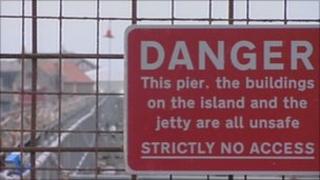 A company which bought a dilapidated Victorian pier in Somerset five years ago said renovation plans could take longer due to the economic climate.
Developers Urban Splash bought Birnbeck Pier, in Weston-super-Mare, in 2006. Development plans included a hotel.
Urban Splash said it had always been a long-term project but could now take longer than expected.
Mike Davies, from the Friends of the Old Pier Society, said he was concerned about the delay.
He said: "Talking has been going on since 1996 and before that but nothing has been done. It's a crying shame.
'Utter disaster'
"If you look at it closely there's all bits fallen off it here, there and everywhere.
"It's a complete and utter disaster. We haven't seen anything positive happen since 1996 when I formed the Friends of the Old Pier Society."
Elfan Ap Rees, from North Somerset Council, said: "The main structure of the pier is sound.
"We sincerely hope that before too much longer, we will actually see something happening on the site."
A spokesman from Urban Splash said: "This was always going to be a long-term project and given the current state of the economy, it's going to take even longer."
Birnbeck Pier has been closed to the public since 1994 and is included on English Heritage's "buildings at risk" register.
The Grade-II listed structure was opened in 1867 and is the only British pier which links the mainland to an island.