Musgrove Park Hospital asks staff how to save £20m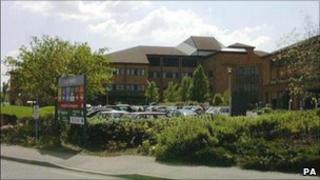 Staff at a Somerset hospital are being asked for ideas on how to help save £20m over the next two years.
Jo Cubbon, chief executive of Musgrove Park Hospital in Taunton, has written to workers saying that 70% of its total costs come from the wage bill.
She suggests possible options for savings include pay cuts or redundancies.
But she has also stated that she is opposed to reducing staff numbers because of the impact on services.
Ms Cubbon's letter states that it would be necessary to shed 150 jobs to help bridge the gap in the budget.
In the letter, Ms Cubbon wrote: "The only way we are going to survive and prosper through this climate is with every single person at Musgrove playing their part.
"We cannot wait for others to sort out our problems and we need to take action now to meet this financial gap. And we need to do this by looking at costs we can control, rather than those that we can't."
Ms Cubbon said the hospital must do all it could to avoid reducing staff numbers and that she wanted all the highly skilled and committed staff to stay.
She added that in the past year the hospital had worked hard to save costs by reducing agency pay and staff sickness but the "more we reduce costs, the harder it becomes to make additional savings".
"You may believe the economic challenges will have little impact on you. You might be tempted to keep your head down and allow events to pass you by. But this would be wrong," she said.
"You can still make a difference and help the hospital and your colleagues."
And speaking to BBC Somerset, Ms Cubbon said she wrote the letter to try to get staff involved.
She said she wanted to look at ways of reducing overtime and locum pay so that staff members would not have to take a pay cut.
"I believe it's the right discussion to have. It's a difficult one but not having it with the staff would be the wrong thing," she said.
"I can't deliver the level of care that we do with 150 people less in the service. That's not an option. We've got to look at other ways to do this."
Increasing pressure
Ms Cubbon added that she was talking about all levels of staff, from consultants and board members down to everyone who works at the hospital.
Helen Eccles, from Unison, said: "We are concerned the focus of the letter is asking staff how to meet efficiency savings from their package of benefits.
"At a time when staff in the NHS are facing increasing pressure in terms of the demands of what they're being asked to do and also facing a pay freeze in the current economic climate, it's simply not fair to ask them to face another pay cut."
Staff have been urged to email any cost-saving ideas to them, and the hospital is talking to unions.