Fireman who caused farmer's cow stampede death sentenced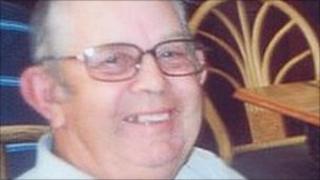 A fireman on a 999 call who caused the death of a 75-year-old farmer when his cattle were startled by the engine's siren has been spared jail.
Julian Lawford, 49, pleaded guilty at Exeter Crown Court to causing the death of Harold Lee by careless driving.
Mr Lee was killed as he walked the cows along a country road near his home in Burtle, Somerset, in August 2009.
Sentencing Lawford the judge said his decision to drive through the cows was a "fatal error of judgement".
Mr Justice Roderick Evans said: "That decision... has had a profound effect upon two decent hard working families, the Lee family and yours.
"The tragedy is of course it could have all so have been avoided," he told Bristol Crown Court.
Disqualifying Lawford from driving for 12 months, the judge added: "The sentence cannot measure the loss of Mr Lee's life."
He was also given a four-month prison sentence suspended for a year.
At a hearing at Exeter Crown Court in December, Lawford, of Boundary Way, Glastonbury, pleaded not guilty to charges of manslaughter and causing death by careless driving, but admitted the lesser charge which was accepted by the prosecution.
'Driver training'
Speaking then the judge told Lawford he was not considering an immediate custodial sentence.
Devon and Somerset Fire and Rescue Service said the thoughts of the service remained with Mr Lee's family.
It said firefighters had to balance the need of driving safely while attending an emergency and the public's expectation they would arrive at an incident in a "timely and effective" manner.
"Driver training will continue to teach and reinforce this," the service said.
"The service will consider what further steps may be necessary regarding the personnel involved in this incident.
"Julian Lawford remains suspended from the service."
Speaking after the sentencing Mr Lee's two sons, Andrew, 48, and Richard, 44, spoke of the loss of their father and the manner of his death.
"Those on the fire engine attending an emergency ignored our advice and this led in our opinion to the herd being spooked and ultimately our father losing his life.
The incident happened on a B-road near Burtle, on the Somerset levels between Glastonbury and Burnham-on-Sea.
Mr Lee had been moving a herd of 100 dairy cows from a field towards their milking parlour at Robins Farm when the accident happened.
He died in hospital six days later.