RNAS Yeovilton 847 squadron deployed to Afghanistan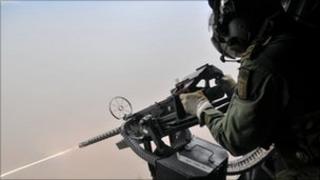 About 50 personnel from 847 squadron based at RNAS Yeovilton are to be deployed to Afghanistan.
It will be the first time they will use the Lynx Mk9A helicopter which was upgraded to cope more effectively in the hot conditions and high altitudes.
Lieutenant Commander Andy Riggal said: "There's quite an increase in capability certainly in terms of power and a new weapons system."
The deployment will run for five months until May 2011.
The troops' main role will be using the Lynx to escort supply helicopters which transport goods and supplies to forward operating bases in Helmand province.
Lt Cdr Riggal said: "We've been heavily involved in training 50 people since about last September and completed that just before Christmas.
"We hope to arrive in theatre, anywhere between this Thursday when I leave, and the end of the month."
RNAS Yeovilton is also home to 845 and 846 squadrons which are on a rolling tour of duty to Afghanistan.
The 847 squadron last served in Helmand Province for seven months from September 2008 and May 2009 using the Mark 7 Lynx helicopter.
The new Lynx Mk9A helicopter has 0.5-calibre machine gun.