First business set for Firepool development in Taunton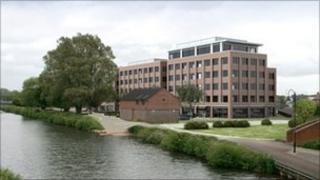 Waste company Viridor is set to be the first company to move into the £270m Firepool development in Taunton.
One hundred staff will move from their headquarters at Station Approach to the nearby old cattle market in 2012.
The Firepool development aims to rejuvenate the area with shops, restaurants, homes and offices.
Project Taunton's Mark Green said although the development aimed to attract new businesses to the area, it would also help current companies.
"We don't want every job at Firepool to be a replacement of every job in Taunton but in these circumstances we're quite happy," he said.
"Firepool will allow existing employers to move to new buildings to help their businesses to grow."
He added the whole project would take about 12 years to complete.