Downside Abbey monks investigated over sex claims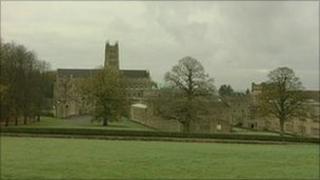 Four monks in Somerset have been investigated over alleged sexual incidents.
One has been arrested, but no charges have been brought.
The four are monks at Downside Abbey, Stratton-on-the-Fosse. The allegations in some cases involve former pupils at Downside School, which the abbey runs.
The Roman Catholic Church says the monks have been withdrawn from active ministry while the allegations are investigated.
Downside Abbey is home to a community of 27 Benedictine monks and also runs the neighbouring Downside School, one of the most highly respected Roman Catholic boarding schools in the country with fees of £25,000 a year.
'Historic allegation'
Downside Abbey's headmaster, Dom Leo Maidlow Davis, issued a statement on Thursday saying the school took safeguarding pupils very seriously.
He said: "A number of historic allegations, in some cases going back 25 years, have been made against the monastic community.
"I want to emphasise none of them involves current pupils in our school.
"The four against whom allegations have been made have voluntarily withdrawn from active ministry in the church and they are not resident at Downside."
All four monks were questioned by detectives.
No criminal action
Avon and Somerset Police said in a statement: "We can confirm that four people have been investigated.
"One of them has been arrested in connection with an historic allegation of indecent assault. He remains on bail pending further inquiries.
"In respect of the other three there is no evidence of criminal offences."
The church and education officials are still looking into the allegations of inappropriate sexual behaviour.
One of those who has been investigated is Dom Anthony Sutch, who used to be headmaster of the school.
He was a confidante of the late Princess Diana and a one-time contributor on BBC Radio 4's Thought for the Day.
He is not facing any criminal action.