Rescuers called to injured swan in River Parrett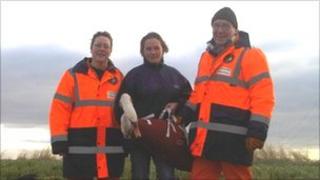 An inshore rescue boat was called out to help save an injured swan that was found on a Somerset river.
The Burnham-on-Sea crew helped RSPCA officers capture the bird at Combwich on the River Parrett on Tuesday.
Although the swan was originally reported to be tangled in a fishing line, the RSPCA found it had been attacked by a dog.
The emaciated bird also had a fractured back. It was put down at RSPCA's West Hatch Wildlife Centre.
The RSPCA thanked the crew and the coastguard for their assistance.