Somerset library closure roadshow begins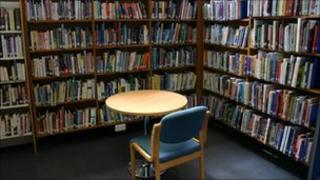 A series of consultation events are being held over proposed library closures in Somerset.
The county council's library budget has been cut by £1.4m and 20 of the 34 libraries in Somerset face closure.
But campaigners said it was "quite mad" that four of the six roadshows would be held in towns where the libraries were due to stay open.
The county council said the locations were chosen based on "the amount of people who could come easily".
It has suggested the 20 libraries it is proposing to stop funding could be offered to the community to run without council money.
Pauline Homeshaw, a library campaigner in Wiveliscombe, said: "It's quite mad. We are expected to jump in a bus or a car and go to Wellington where we're surrounded by Wellington library users where they are keeping their library?"
Consultation doubts
The roadshows have been planned for Burnham-on-Sea, Crewkerne, Glastonbury, Castle Cary, Williton and Wellington.
Councillor Christine Lawrence, the cabinet member for communities, said: "Those places were chosen for the amount of people who can come easily and before the officers had decided and worked through the anomalies on which libraries would suit us best to remain open."
Campaigners in other towns have also expressed their doubts over the public consultation.
Bill Revans, the mayor of North Petherton, said: "I'm not sure that this is a consultation that's really looking to do anything apart from give them the answers they want.
"People who work can't attend the one in Sedgemoor which is only running during the working day."
But Ms Lawrence said they "may well be persuaded by the discussions".
"I don't want people to think we are not going to be listening. We are going to be listening," she said.
Those affected by the proposed closures have been given the option to run their libraries as community groups where they can be run independently or the groups can pay to opt back under county council control.
Four of the six mobile library services are also set to be closed down.