Sir Stirling Moss launches mobile chemotherapy unit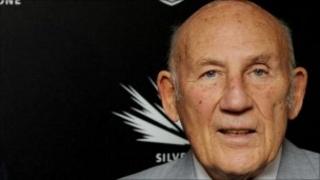 Formula One legend Sir Stirling Moss has launched a mobile chemotherapy service for cancer patients.
Paid for by Hope For Tomorrow charity, the £150,000 unit will be based at Taunton's Musgrove Park Hospital but will travel to rural areas of Somerset.
It aims to cut the travel time for those seeking treatment and could carry out more than 1,000 treatments a year.
Sir Stirling named the unit Bumble, which was his nickname for his mother-in-law who died from cancer in 2006.
"With my mother-in-law it was awful. She wasted so much time [travelling to treatment centres] and she saw people there who took a whole day," said Sir Stirling, who is the patron of the charity.
"It really is terribly trying and exasperating for people who need this."
The service will be run by Musgrove Park and Yeovil District hospitals, with funding from Musgrove Leukaemic Group, a local charity.
Christine Mills, founder of Hope for Tomorrow said: "The most gratifying thing about the concept of bringing chemotherapy treatment nearer to patient's homes is the knowledge that it is so warmly appreciated by the patients and their families."
A similar unit in Gloucestershire currently gives 3,000 chemotherapy treatments a year and has saved patients more than 70,000 miles of travel.
Sir Stirling officially launched the unit at a service at Musgrove Park Hospital on Tuesday.