Turn Back Time cameras spot Shepton cross' disrepair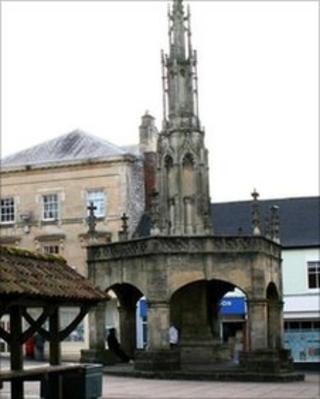 A campaign has been launched to save a Somerset landmark after a BBC television show found it was crumbling and in a poor state of repair.
The market cross in Shepton Mallet has been shown dozens of times on the BBC 1 show Turn Back Time - the High Street.
Supporters of the campaign hope to raise £89,000 to restore the 50ft (15m) high statue.
Glastonbury Festival's Michael Eavis said: "It's part of the scenery and it's a bit of a trademark for Shepton."
He added: "One would prefer to keep it there rather than have it fall down. It's part of the heritage and it has a value.
"I'm not saying I'm paying for it but I can lead the way."
The group's trustee Jeanette March said: "The market cross is Shepton Mallet and it's the most important icon that we have."