Liverpool law student crowned Miss Great Britain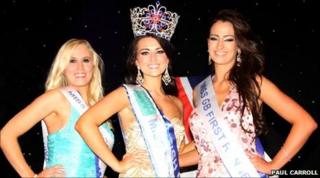 A law student from Liverpool has been crowned Miss Great Britain at a ceremony in Weston-super-Mare.
Amy Carrier, 20, said she hoped she would be a good ambassador and role model for all young women and wants to use the title to raise money and support charities.
Lisa Lazarus, 23, a part-time radiography student at Hertfordshire University, was first runner-up.
Gina Basham, 22, who holds Miss Birmingham City, was second runner-up.
'Hip operation'
Miss Carrier said winning represented a great sense of personal achievement in her ambition to enter the world of modelling.
Miss Basham was told by doctors she would be wheelchair-bound for life after being born with only one fully-formed hip.
She managed to prove them wrong after a series of operations.
Miss Lazarus, who is Miss Central London, has been modelling since the age of 14 and won her first beauty competition, Miss Llanelli, at the age of 16, in 2004.
The women were selected from 57 entrants from around the UK.
The contest dates back to 1945, but this year is the first to allow single mothers and divorcees after organisers changed the rules.
During the ceremony at the seaside town's Grand Pier contestants modelled swimwear and evening dress.
Organiser Liz Fuller said in the past beauty pageants were "let's look at that girl in the swimsuit".
"Nowadays it's more about personality, character and talent," she said.
"We want Miss Great Britain or any pageant to be the platform for the girls to achieve whatever their career opportunities or aspirations are," she added.