Huge haul of Roman coins on display at British Museum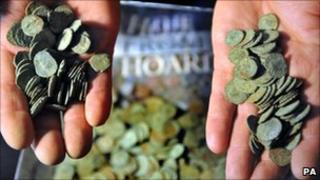 The largest hoard of Roman coins found in a single container has gone on display at the British Museum.
Dave Crisp, from Devizes in Wiltshire, discovered more than 50,000 coins with a metal detector near Frome, Somerset in April.
The haul was displayed along with other treasures to mark the publication of the Treasure Annual Report 2008.
Culture Minister Ed Vaizey announced administration of the Treasure Act 1996 would be handed over to the museum.
The act requires anyone who finds gold, silver or coins that are more than 300 years old to report it.
A hoard of 17th Century silverware found in a garden in Nether Stowey near Bridgwater in 2009 also went on display.
It is thought to have been buried for safekeeping during the Civil War.
The Frome haul includes examples from AD286 to 293 during the reign of Carausius, who was the first Roman emperor to strike coins in Britain.
It was declared treasure by the East Somerset coroner in July.
A small selection was then put on display at Frome Library.