Groups fight over 'confusing hunting law'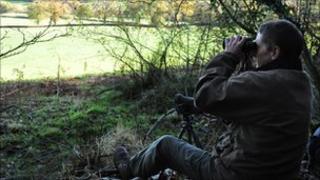 Since the Hunting Act came into force in 2005, arguments have raged over how successful it has been.
A total of 154 people have been prosecuted under the act, but the pro hunting lobby says only four relate directly to hunting, the rest cover poaching.
The cases which have been to court rely on video evidence obtained by animal rights groups who observe the hunts.
The latest was Richard Down, from Somerset, who became the first person to be convicted twice under the act when, at Taunton Magistrates' Court on Monday, he was found guilty of hunting a wild mammal with more than two dogs.
He had chased an injured stag with three hounds.
'Flash points'
This conviction was based on video footage gathered by the League Against Cruel Sports (LACS).
Armed with camouflaged camcorders and binoculars, I went out with Paul Tillsley, head of monitoring for the LACS.
We stood at the bottom of woodland on the Devon/Somerset border for five hours observing a hunt.
Huntsmen wandered around woodland with hounds looking for a scent.
Nothing of note happened, although towards the end of the meet we had to dart behind some trees as huntsmen trotted above us.
Mr Tillsley said he was wary of being spotted.
He said in the past his windows and tyres had been slashed by hunt supporters and that his face had been printed on postcards and handed out across the country to warn people of who he was.
"There's a certain element within the hunting community that are violent.
"I've had threats all the time, even going to town to do the shopping I get threatened by people, but that becomes unfortunately part of the day-to-day life of living in the countryside and being anti-hunting."
The LACS has listed numerous cases of hunt monitors being attacked, such as Christopher Marles, who was convicted of deliberately using his horse to knock a hunt monitor to the ground, and gamekeeper Richard Clarke, who was found guilty of assault and threatening behaviour.
Tim Bonner, from the Countryside Alliance (CA), said the allegations were "ridiculous".
"There are flash points, but if hunting people are left alone and can work with the police under the law then there'll be no flash points."
The CA says it should not be down to animal rights groups to police the act, while the government says it is up to individual police forces how they resource it.
This has led to animal rights groups acting as a "countryside neighbourhood watch".
'Sufficient evidence'
Mr Tillsley said: "I spent the best part of 20 years campaigning for a Hunting Act to be brought into law.
"Now it's my role to watch hunts and check they're abiding by the law. I don't think there's anything vigilante or aggressive or sinister about that, it's no different from neighbourhood watch.
"If I was convinced that all hunts were abiding by the law then I could find better things to do with my time than watch them."
Under the Hunting Act, it is legal to hunt a trail of an artificial scent but this is what has caused the most debate.
Anti-hunt supporters say hunts are not laying down a scent.
Mr Tillsley said he had never seen a hunt lay a trail beforehand.
However when I went out with the West Somerset Hunt, John Tire was on a quad bike laying an artificial scent.
Mr Tire said: "There's something rather nice about being hunted by a pack of hounds as that's what they're doing - they're hunting me.
"I can go anywhere and do the same sort of thing a fox will do. I see them hunting exactly where I've laid the trail so you know it's really genuine."
He said the hounds could tell the difference between a real fox scent and an artificial one, but that "accidents do happen".
'So many loopholes'
The government has called the law, introduced under Labour, unworkable.
The coalition said it would hold a free vote on the repeal of the act.
And the CA is determined to get the act repealed, saying it is a confusing law.
Alison Hawes, from the CA, said: "If one of the country's most experienced huntsmen, Richard Downs [the first person to be convicted twice under the Hunting Act], could not understand it then the average hunter would not be able to either."
And Mr Bonner added: "Police are stuck in the middle trying to comprehend an incomprehensible law and enforce an unenforceable law.
"The law has so many loopholes in it. It's very difficult to form a law that covers everything."