Gypsies leave illegally occupied field in North Curry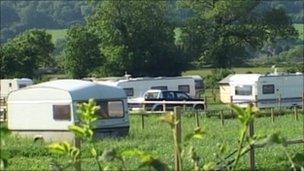 The last Romany Gypsy family has left an illegally occupied site in Somerset after a six-year legal battle.
Although the families bought the field in Oxen Lane, North Curry in 2004 they did not have permission to live there.
Sally Woodbury, speaking on behalf of the families, said: "That was their home and just before Christmas they're by the side of the road somewhere."
Councillor John Williams said: "It has been a tremendous saga but that is the law and that protects everybody."
It has taken six years to evict the gypsies from the land because they applied for retrospective planning permission.
Taunton Deane Borough Council was also faced with further difficulties as the land was legally owned by the travellers.
It has cost the council in the region of £100,000 in legal costs to evict the families.
"We have to go through due process and the people who are committing the unauthorised development have the opportunity to appeal and that has to go through all of the stages before we can act," said Mr Williams.
But Ms Woodbury said buying land and applying for retrospective planning permission was the only option for traveller families because councils failed to provide suitable sites for them.
"For the traveller people what alternative do you have? You've got nowhere to live, your traditional way of life has been taken away from you, with so many rules and laws brought in to stop your way of life."
Related Internet Links
The BBC is not responsible for the content of external sites.