New Students' Union for University of Bath students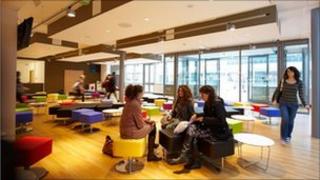 A new £5.5m Students' Union building has been opened at the University of Bath.
The centre has been funded principally by the university with £400,000 from the Students' Union and £100,000 from the alumni fund.
The glass-fronted building includes a cafe, bar, and nightclub and is fitted out with about 40 plasma information screens, wi-fi and a sound system.
A university spokesman said it would be a "tremendous addition to campus life".