Mendip ramblers misled 'to avoid offence'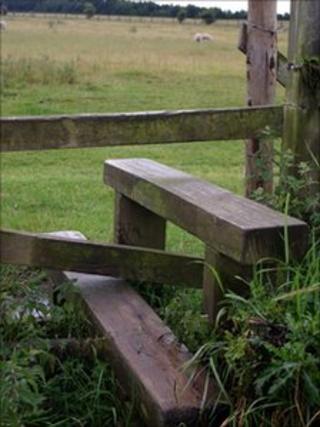 A councillor has admitted misleading a group of Somerset ramblers so as "not to offend them" after complaints about the stiles they installed.
Somerset County Council told the Mendip Ramblers to stop their work - citing health and safety reasons.
The move came after landowners said the enthusiasts' work was not up to standard.
But the authority admitted it tried to spare the ramblers' feelings.
Councillor Anthony Trollope-Bellew admitted what had happened on BBC Somerset earlier and said the council should have been more upfront.
He said: "The stiles and gates they were putting up were not up to British standard and some of them even infringed the Disability Discrimination Act.
"We didn't want to offend the Mendip Ramblers but we are working with them now.
"The working party of the Mendip Ramblers was working in the West Bradley area on Tuesday and our area warden inspected their work yesterday. I'm glad to say it was up to standard.
"We could be accused of being a bit too tactful, perhaps we should have been more upfront to start with."
He said the county council took over responsibility for the footpaths from the district council in April.
The ramblers have installed about 600 gates, stiles and bridges over the last six years.
Mendip Ramblers spokesman Bryn Anstice said he found Mr Trollope-Bellew's remarks "extremely patronising".
He claimed no one from the group had been trained by the council but said members would be happy to attend training.
"We've been working with Mendip [District] Council for the last six years and we've put in an average of 100 gates, stiles and bridges every year," he said.
"This issue of the work not being up to standard was never, ever raised by Mendip once in all that time.
"We've had three face-to-face meetings with Somerset County Council since this move was proposed back in September... this has never been mentioned.
"Originally we were told it was health and safety. Now it's supposed to be our work's not up to scratch.
"Councils have got to be open and honest."