Somerset councils 'disappointed' at Co-op job losses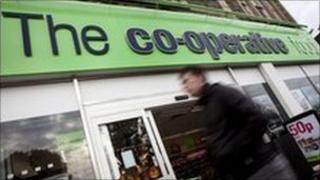 Two Somerset councils have expressed their disappointment at news that more than 700 jobs are to transfer from the county to Bristol.
The Co-operative Group said it will close operations at facilities in Wellington and Bridgwater in favour of a new centre in Avonmouth.
The company said the 731 staff would be offered the chance to relocate.
Taunton Deane and Sedgemoor District councils said they wanted to help affected employees get new jobs.
'Unwilling to relocate'
A spokesman from Sedgemoor District Council it could help support affected staff, particularly those unwilling or unable to relocate, with training and advice on benefits and finding new jobs.
He said it would also give advice on applying for jobs at the new Morrisons depot or with EDF, which wants to build a nuclear power station at Hinkley Point.
The spokesman added: "The team will continue to liaise with the company to assess what help is needed both immediately and in the longer term, during the run-up to the depot's ultimate closure."
A Taunton Deane Borough Council spokesman said the authority was trying to broker a meeting between the company and agencies including Job Centre Plus with a view to offering training and new opportunities.
The new centre will serve Co-operative and Somerfield stores across Bristol and South Wales.
The Co-operative Group says it hopes the new centre will open, subject to planning permission, in 2012.