Controversial health plans debated in Somerset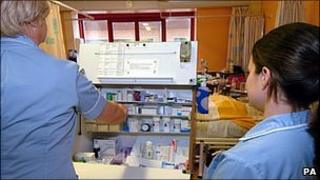 Controversial plans to reform community health services have been discussed at a heated meeting in Yeovil.
Primary care trusts have been asked by the coalition government to look at ways of splitting community services from their commissioning arm.
The meeting discussed whether Somerset PCT would merge its community services with its mental health trust or form a separate social enterprise company.
Unions are against the reform, claiming it amounts to "privatising the NHS".
Community health services cover health visitors, school nurses, therapy services and community hospitals.
'Rushed through'
In Somerset, these services employ 2,500 people and have an annual budget of £74m.
Proposals must be submitted to the Strategic Health Authority by the end of September.
This deadline has angered staff, who said Somerset PCT had only given them a two week consultation in August to look at the proposals.
Unite representative Brian Smeadley said the proposals would "lead to the destruction of the NHS."
During the meeting, Glen Burrows from Bridgwater Senior Citizens Forum, said: "We don't live in a dictatorship and what we respectfully suggest to you, is if the government is making you feel rushed into making this momentous decision about the future of community health services, that you go back to them and say you need more time."
Jan Hull from Somerset PCT said such a move was not an option.
"We are in a process and there is a national requirement to have a proposal put forward by the end of the month and we have a put arrangements in place to be in line with that," she said.
Somerset PCT's decision will be announced on Monday.