Team rescues stranded 4x4 from Burnham-on-Sea beach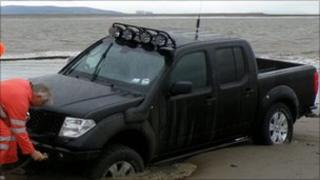 A 4x4 vehicle which became stranded in soft sand on a Somerset beach had to be pulled to safety by tractor before the tide could reach it.
Burnham-on-Sea's rescue boat team was called to the town's beach on Tuesday afternoon after reports that a car had sunk into the sand beside the jetty.
The 4x4's owner, from Gloucestershire, had left his vehicle there while he tried to retrieve a sea scooter.
Burnham Area Rescue Boat (BARB) is a charity run by volunteers.
Steve Perks, operations manager for BARB, said: "Fortunately for the owner, the vehicle was quickly pulled to safety.
"He was very grateful for BARB's assistance and gave a donation to the charity to cover its costs."
BARB operates two rescue hovercrafts, a tractor and an inshore rescue boat. It claims to have rescued more than 200 people in Somerset over the past 19 years.