Somerset coroner critical of EU time rules for doctors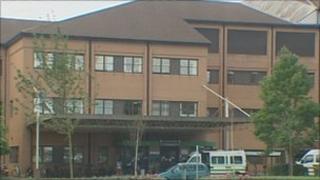 A coroner has criticised European working hours rules after a man died in a Somerset hospital after waiting more than five hours to see a medic.
By the time Roland Holbrow, 87, was seen by a doctor at Musgrove Park Hospital in Taunton he had died.
Michael Rose said that night there were only only two junior doctors covering more than 300 beds.
Taunton & Somerset NHS Trust said although Mr Holbrow was not seen by a doctor, he was cared for by nurses.
'Running into problems'
Changes introduced in 2003 mean that no junior doctor should work more than 56 hours a week. The inquest heard prior to this it was not unusual for them to do in excess of 100 hours a week.
The West Somerset coroner described the European Working Time Directive as a "political matter" but said he believed the Health Secretary Andrew Lansley was aware of it.
"Hospitals are running into problems," Mr Rose added.
Former miner and lumberjack Mr Holbrow, from Chard, had MRSA and C. difficile so was kept in a separate room on the ward.
His condition had been monitored by nurses who had become concerned for his breathing.
The hearing was told how nine other patients were waiting to be seen by the two doctors on duty and that one had been called to the hospital's A&E department.
Natural causes
Mr Holbrow was not seen until after midnight, by which time he had died from pneumonia.
In a statement issued after the verdict, the Taunton & Somerset NHS Foundation Trust expressed its "deepest sympathy" to Mr Holbrow's family.
"We note the coroner's conclusion that Mr Holbrow died due to natural causes," a trust spokesman said.
"It is important to note that although Mr Holbrow was not seen by a doctor, he was cared for by nurses throughout.
"Clearly there are lessons to be learnt."