Burnham's theatre at risk as council abandons talks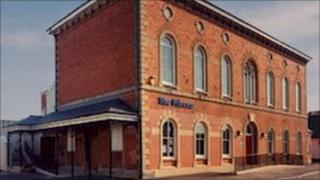 Talks to save a theatre in Burnham-on-Sea have been abandoned after the council said it had run out of money.
Three groups had put in interim bids to Sedgemoor District Council to take over the running of the Princess Theatre.
The council has now abandoned talks after it was decided that all of the proposals put forward would require additional council funding.
A council spokeswoman said it would love to have supported their proposals, but had no money left.
The theatre currently makes a loss of £2,000 per week.
Tom Ashton from the Friends of the Princess Theatre, a charity set up to run the theatre, said: "It's a fantastic building and facility, we just can't lose it.
"When they approached us to put in an interim bid we expressed reservations but we were told to put in a bid in anyway but we expected to sit down with the decision-makers to go through the plans.
"But this is now not happening, they've just said no [to the proposal]."
The group was asking the council for £25,000 for the first five years and then £15,000 thereafter.
The council are now looking at alternative options for the Princess.