Afghanistan troops call for Yeovil Town football kit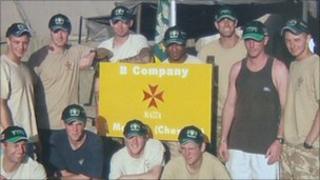 Yeovil Town football club has gained a following among troops serving in Afghanistan, according to a Somerset couple who send them gift boxes.
Pensioners Joanne Goody-Orris and Maurice Benton have been sending treats, including sweets and shower gel, to soldiers for three years.
But Ms Goody-Orris said it was Yeovil Town merchandise that was now most in demand.
The club said it was happy to supply the shirts and caps.
Ms Goody-Orris said: "It's the 'must have' fashion in Afghanistan, we heard that from Captain Grant Brown of the 1st Mercians.
"We got photographs back from boys in the Mercians which showed us they're all wearing them."
She said the League One club, known as the Glovers after Yeovil's glove-making history, had even gained support from fans of other teams.
"We get e-mails from Afghanistan saying 'the Glovers didn't do very well this week but they'll be all right', and that's Manchester United fans," she said.
"All the boys have their own teams that they love, but they're now Glovers fans."
Mr Benton said more than 300 hats and 50 shirts, in the team's green, white and black colours, had already been sent out to troops.
Club 'generous'
Mr Benton said: "Every letter we get back, the Glovers are mentioned.
"One chap from Leeds came to stay with us and we took him down to the stadium and he watched Leeds play Yeovil and then he made it into the director's box.
"The Glovers are so generous when we take these lads down there."
Yeovil Town's commercial manager, Dave Linney, said: "My son Ian has been over to Afghanistan on three occasions with the RAF and likewise with one of our employees, her son's been out there, so it does touch a chord close to home and we were only too pleased we could help in this respect."
The couple, known as Mo and Jo, have sent almost 7,000 boxes to troops and receive letters in return.
An MoD spokesman said: "We are very grateful for the tremendous support and generosity of members of the public like Mo and Jo.
"Our priority however lies with the safety and welfare of our service personnel.
"Large volumes of unsolicited mail create significant delays to the delivery of personal mail from family and friends and also require extra convoys to take the mail over the 'final mile'; these extra convoys place our troops in unnecessary danger.
"We would therefore encourage well-wishers to support our troops by donating to one of a number of endorsed service charities."