Burnham-on-Sea rescue teams find missing man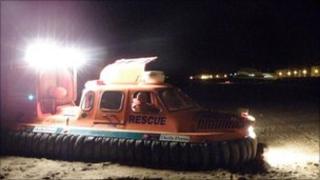 Coastguards, police and a rescue hovercraft were called out to search for a man who went missing on Burnham-on-Sea beach in the early hours.
Concerns had been raised that the 40-year-old had been in a distressed state when he disappeared.
Several miles of the beach between Burnham jetty and Berrow were searched from 0015 BST.
Coastguards said he was found on the beach near the low lighthouse and appeared to have been drinking.
The man was taken to Burnham jetty, where he was met by a waiting ambulance.
An RAF search and rescue helicopter from Chivenor in Devon, which was en route to the scene, was stood down.