Harry Patch memorial is unveiled in Bath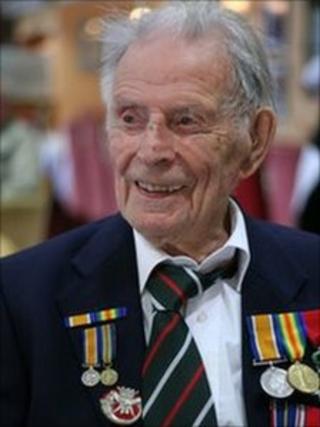 Two lead flower planters have been dedicated to the late Harry Patch in Bath.
Mr Patch, the last surviving British solder to fight in the trenches in World War I, died on 25 July last year at the age of 111.
The planters were placed at the entrance to Royal Victoria Park earlier, next to the war memorial.
The funds were raised following an appeal. Various dignitaries and members of the public attended the ceremony.
Mr Patch, was born in 1898 in Combe Down, near Bath, and died at Fletcher House care home in Wells, Somerset.
His funeral at Wells Cathedral was attended by thousands of people.
Sarah Bevan, chairman of Bath and North East Somerset Council, said: "Harry Patch was courageous in wartime and courageous in peacetime and was not afraid to voice his conviction that man's inhumanity to man during wartime can be overturned."