Three people led from mud flats at Brean Down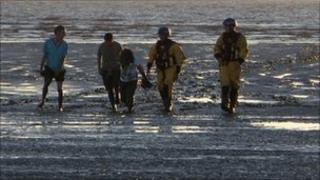 Coastguards led two children and an adult to safety after they became trapped by the incoming tide on mud flats on a beach in Somerset.
Two hovercraft, two lifeboats and a helicopter were called at 1915 BST on Monday by the beach warden who saw the three knee-deep in mud at Brean Down.
Two members from Burnham Coastguard waded out to the group, aged 12, 14 and 23, and guided them back to the shore.
The rescue craft, all ready to launch at the scene, were stood down.
Ian Jefferies, from the Burnham Coastguard mud rescue team, said: "The three people from Bridgwater and North Petherton had not responded to calls from the beach warden to come back from the water's edge, despite being in knee-deep mud with a fast-incoming tide around them.
"One of the youngsters' family was frantic with worry and, given the incoming tide and falling light, this was potentially a very serious situation."