Weston's Pier Square project 'nearly complete'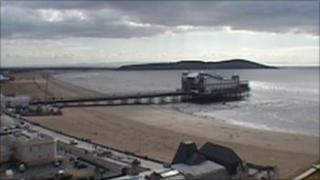 The £3.9m redevelopment of Weston-super-Mare's Pier Square should be near completion by the end on September, North Somerset Council has said.
The works will mean the temporary closure of parts of Marine Parade and Royal Parade.
Various seafront redevelopment works were blamed for a big fall in trade by a number of firms in the town earlier this month.
A council spokesman said good progress was being made.
'Final furlong'
Businesses have said tourists were staying away, because the town was a "construction mess".
But Councillor Elfan Ap Rees, the council's executive member for strategic planning, said they were coming "into the final furlong" of the rebuilding of Pier Square
He said: "Large areas of the square are now paved and being used by the public, with around 100 sq m of paving being laid per day.
"Walls around the square are being put up and the northern section is completed, apart from some lighting work, and fully open to the public together with the pedestrian crossing to the pier.
"Foundations for the fountain are being dug and the tank put in. The refurbishment off-site of the fountain is nearly complete and I expect it to be installed by the end of September."
He said what was now needed was to lay tarmac and complete work on the roadways and drains.
Diversions will be in place while Marine Parade is closed northbound from 1 to 24 September and Royal Parade is not open to through traffic between 1 and 10 of the month.