Coroner decides Somerset Roman coin hoard is treasure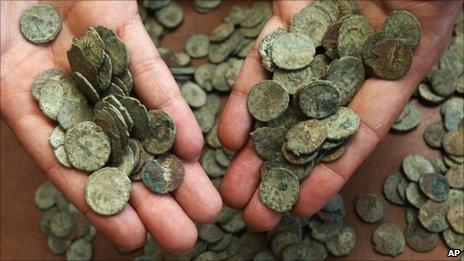 A hoard of more than 52,500 Roman coins discovered in a Somerset field has been declared treasure.
Dave Crisp, from Wiltshire, found the coins - dating from the 3rd Century AD - in April buried near Frome.
"I've been metal detecting since 1988 and it's the most exciting and important find I've made," he said.
A British Museum spokesman said the 160kg find was the largest single coin haul found in one pot and was probably intended as a religious offering.
Most of the coins, which are made from debased silver or bronze, are currently at the British Museum in London and includes examples from AD286 to 293 during the reign of Carausius who was the first Roman emperor to strike coins in Britain.
A small selection has gone on display at Frome Library.
Mr Crisp had earlier found a hoard of 60 silver coins in the same field before he discovered the larger pot of coins.
That find was also declared treasure earlier.
Somerset County Council Heritage Service can buy the treasure for the Museum of Somerset, which is due to reopen in 2011, under the Treasure Act.
Following the ruling by East Somerset coroner Tony Williams, Mr Crisp, who works as a chef in the NHS, said: "It was a foregone conclusion that treasure would be declared today."
He said he did not know what reward he was going to get, but would split whatever he did get equally with the farmer who owned the land according to their agreement and the law.
It has been suggested the reward could be up to £1m.
When asked how a share of the money would change his life, Mr Crisp said he did not know but added: "I'm coming up for retirement... I'll work until I'm 65 then I'll see."
He added it was not the money that mattered.
"This is what matters, I'm the finder of the largest single hoard of Roman coins ever.
"I'll always be the finder, unless someone beats me of course. There are a lot more pots out there."
The landowner, whose surname is not being released to deter further treasure hunters, said: "I have always loved history but I never expected anything as important, exciting or old as this to be found on my land."
A British Museum spokesman said the Treasure Valuation Committee would recommend a value for the hoard in October, which would be paid out when the finder, landowner and museum agreed with the valuation.
Anna Booth, from the Portable Antiquities Scheme (PAS), said of the reward: "It will be fairly substantial but how substantial, we don't know.
"If they find lots of rare coins, the price could go up. It won't be millions, but beyond that it is hard to speculate.
"Once it has been evaluated, the British Museum will be given a chance to acquire it. If not, the local museum will have it.
"The British Museum has already said it hopes the find will be acquired by the Museum of Somerset.
"We are now going to be on a fundraising drive to get the money."
The story of the excavation will be told in a new BBC Two archaeology series, Digging for Britain, presented by Dr Alice Roberts and made by 360production, to be broadcast in August.
Related Internet Links
The BBC is not responsible for the content of external sites.