Taser accidentally discharged into Somerset man's groin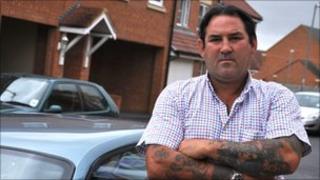 A Somerset man is seeking legal advice after a police officer accidentally discharged a 50,000-volt Taser gun into his groin.
Peter Cox, 49, was hit with the stun weapon after being stopped on suspicion of driving a BMW without insurance in Bridgwater on 13 July.
He has denied claims that he had been acting aggressively.
Avon and Somerset Police admits he was shot accidentally and said an investigation was under way.
Mr Cox said he had seen a patrol car following him and pulled over at a friend's house, where he was doing landscaping work.
The officer pointed the Taser at him for a few seconds before lowering the weapon.
Missed genitals
At this point it discharged, hitting his groin and ankle but narrowly missing his genitals.
Mr Cox fell to the ground in pain and had to be treated by paramedics.
"As soon as it was done, [the officer] came running up to me apologising and said it was an accidental discharge," said Mr Cox.
"It was dreadful. The pain was unbelievable. It was the worst pain I'd ever felt."
Mr Cox has Guillain Barre syndrome, a disease of the nervous system which causes numbness and weakness and a degree of paralysis.
He said the Taser shock was worse than any symptoms of the illness he had suffered.
"It paralysed my legs and the top of my body. I felt physically sick and I had a massive headache," he said.
A police statement said the threat of using a Taser was often enough to calm an aggressive suspect.
It said: "On Tuesday morning officers stopped a man in Bridgwater suspected to be driving a vehicle without insurance.
"The man appeared to become aggressive and the officer removed his Taser in accordance with protocol.
"On lowering the Taser it was accidentally discharged.
"The man was given first aid at the scene but is not believed to be injured. Police are now looking into this incident."
Mr Cox denied being aggressive and said his insurance company had confirmed immediately after he was stopped he had valid cover.