Petition to stop school's lessons in The Simpsons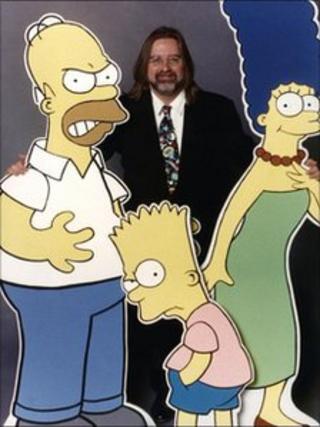 More than 400 people have signed a petition calling for a Somerset school to stop teaching the US cartoon series The Simpsons in lessons.
The opening sequence and an episode are being covered in the media module of the course at Kingsmead Community School, in Wiveliscombe.
The school said the show demonstrated use of language in the media.
Parent Joseph Reynolds said it was not the right quality of learning material for his daughter and her classmates.
Mr Reynolds collected signatures for his petition in the local community, but the school's governors upheld the school's decision to continue teaching the cartoon.
'Waste of time'
Mr Reynolds said: "I don't think it's strong enough content. The national curriculum actually lists a great number of authors we could use and The Simpsons is never listed.
"The school has kind of fallen back on a weaker programme here just because kids like The Simpsons.
"If you want to use The Simpsons once in a while as a hook to get kids interested in A Midsummer Night's Dream or get them interested in some other stronger content, I think that's great.
"There's a big difference between that and actually teaching The Simpsons for six weeks and I think it's a waste of the kids' time."
Andy Dunnett, the school's assistant head teacher, said work on the cartoon took place in Year Eight as part of a "broad, balanced and diverse" curriculum.
He said: "Students are encouraged to look at the text in a critical way. Initially it's about building up their skills as critical thinkers.
"They also learn about different aspects of the media; audience, visual narrative, presentation and stereotypes, and some quite high level thinking ideas like satire, irony and parody.
"Far from dumbing down... we believe we are giving students a really vital and important part of their general education."
Mr Dunnett added: "Our students get a very wide diet including three Shakespeare plays over five years at Kingsmead.
"We would be doing our students a disservice if we didn't give them the opportunity to learn about the way media products are made and the way they affect the world around them."