Shropshire RAF man completes 104-mile running challenge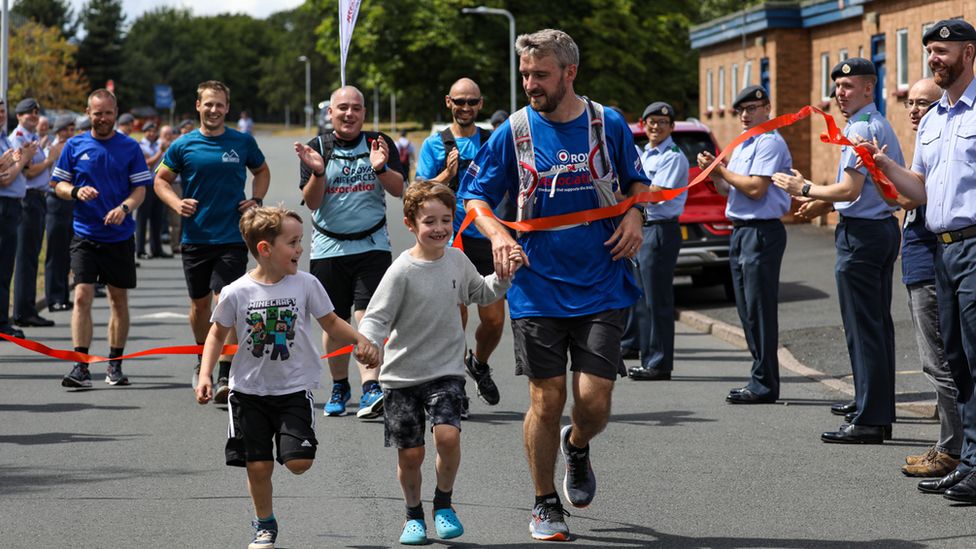 A serviceman has run 104 miles (167km) to mark 104 years of the Royal Air Force (RAF) and raise awareness of mental health.
Corporal Bruce Brennan completed the non-stop challenge in Shropshire, finishing at RAF Cosford on Thursday.
He said although he felt in "a very good place" mentally after completing the run, physically he was "sore" and enjoyed removing his trainers.
Money he has raised will go to the Royal Air Forces Association.
He said he wanted to do the challenge to raise awareness of mental health as a personal goal after suffering himself.
"We started last year and I did a 76-mile run, raising money and mental health awareness and from there we received some messages which were unexpected - people I used to work with were going through a bad time.
"I remember saying to the boss, the wife, before the messages, that if we help somebody even for just an hour a day, let's do it again.
"So I've had to stick with my word and hopefully it's made a little difference, just somewhere in someone's life, just for the day. That makes it all worthwhile."
Mr Brennan ran four 26.6 mile laps through Tong, Bishops Wood, and Albrighton finishing at his Cosford base.
"I've done 104 miles - 100 for the RAF Association for Mental Health. I've done four miles for the family.
"It fits in nicely with the air force being 104 years."
He was met at the finish line after 22 hours of running by his six-year-old son Frederick and eight-year-old Archie, who said they were "very proud" of their father.
His wife Heather said family life had been "on hold" while he trained and hoped now he did not want to take on any more challenges.
"I was a bit trembly when I saw how many there were here to see him in," she said.
Related Internet Links
The BBC is not responsible for the content of external sites.