Norman tower not identified after Shrewsbury Castle dig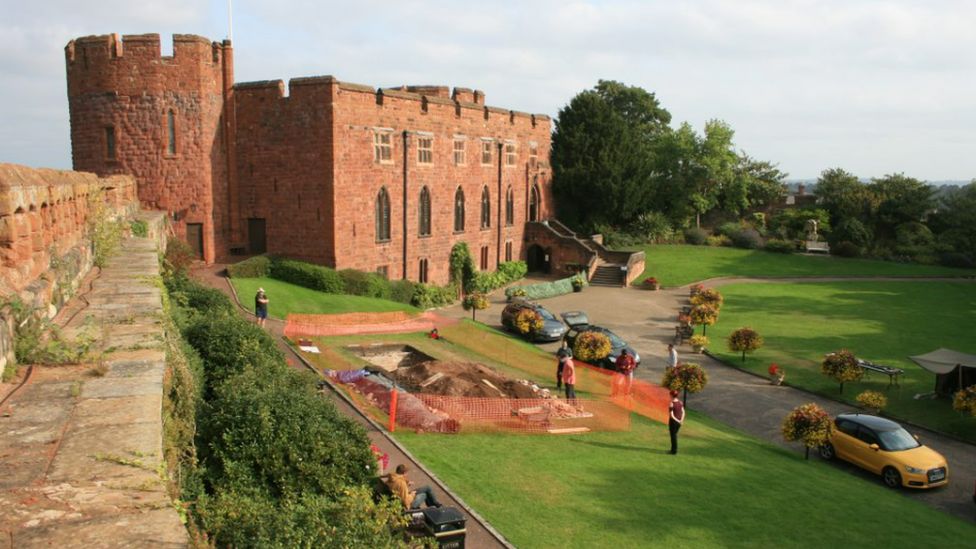 Archaeologists say they cannot confirm whether features uncovered at Shrewsbury Castle are the remains of a Norman wooden tower predating the site's conversion to stone.
An 11-day dig began on 17 July, with an earth mound - known as a motte - probed for evidence of the structure.
Findings could not definitively be said to be the tower, the team concluded.
But they said evidence nevertheless pointed to remains of wooden buildings on the motte.
The team was given £6,790 by The Castle Studies Trust to carry out the dig.
Among members was Dr Nigel Baker who explained: "Although remains of the 'great tower' - the timber tower that collapsed in the third quarter of the 13th century - were not positively identified, not all features were fully within our 2m trenches.
"Some of the post-holes were packed with a distinctive crumbly green sandstone, obtained nearby from the River Severn.
"This has recently been identified by research since 2019 as the stone most likely used in the first phase of building the curtain walls and converting the Norman earth-and-timber fortress into a stone castle."
Previous excavations at the castle found that work carried out by the civil engineer Thomas Telford in the 1780s had damaged a lot of the site, Dr Baker said.
Student volunteers who have been working on the project have been updating members of the public each day on the dig's progress, explaining their finds.