Off-grid bus station officially opened in Telford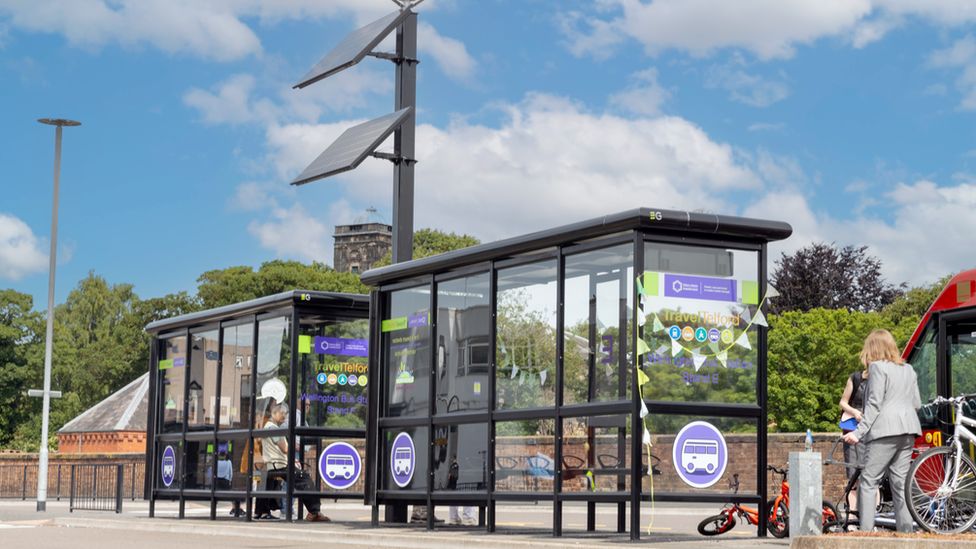 A bus station powered by wind turbines and solar panels has been opened.
Telford and Wrekin Council said its new off-grid facility in Wellington was a first in the UK.
Lighting, CCTV and electronic timetables will be powered by the turbines and panels mounted alongside bus shelters, which themselves will be made from recycled bottles.
Over its lifespan, the council said the carbon savings were equivalent to planting more than 750 trees.
Each shelter will generate approximately 820 kilowatt-hours a year - enough electricity to supply a house for three months, the local authority said.
More of the eco-bus shelters are being rolled out across the borough over the next two years, contributing to the council's aim to be net zero by 2030.
Councillor Carolyn Healy, cabinet member for climate change, green spaces, natural and historic environment and cultural services, said: "The bus shelters are another step forward in our green journey to help tackle the climate emergency.
"We are pioneering the installation of smart shelters powered by solar panels and micro wind turbine technology and were one of the first in the region to welcome bus stops with living roofs - clear examples of how we're actively embedding renewable technology and bringing it to life - helping improve the borough's climate, biodiversity and air quality."
Related Internet Links
The BBC is not responsible for the content of external sites.